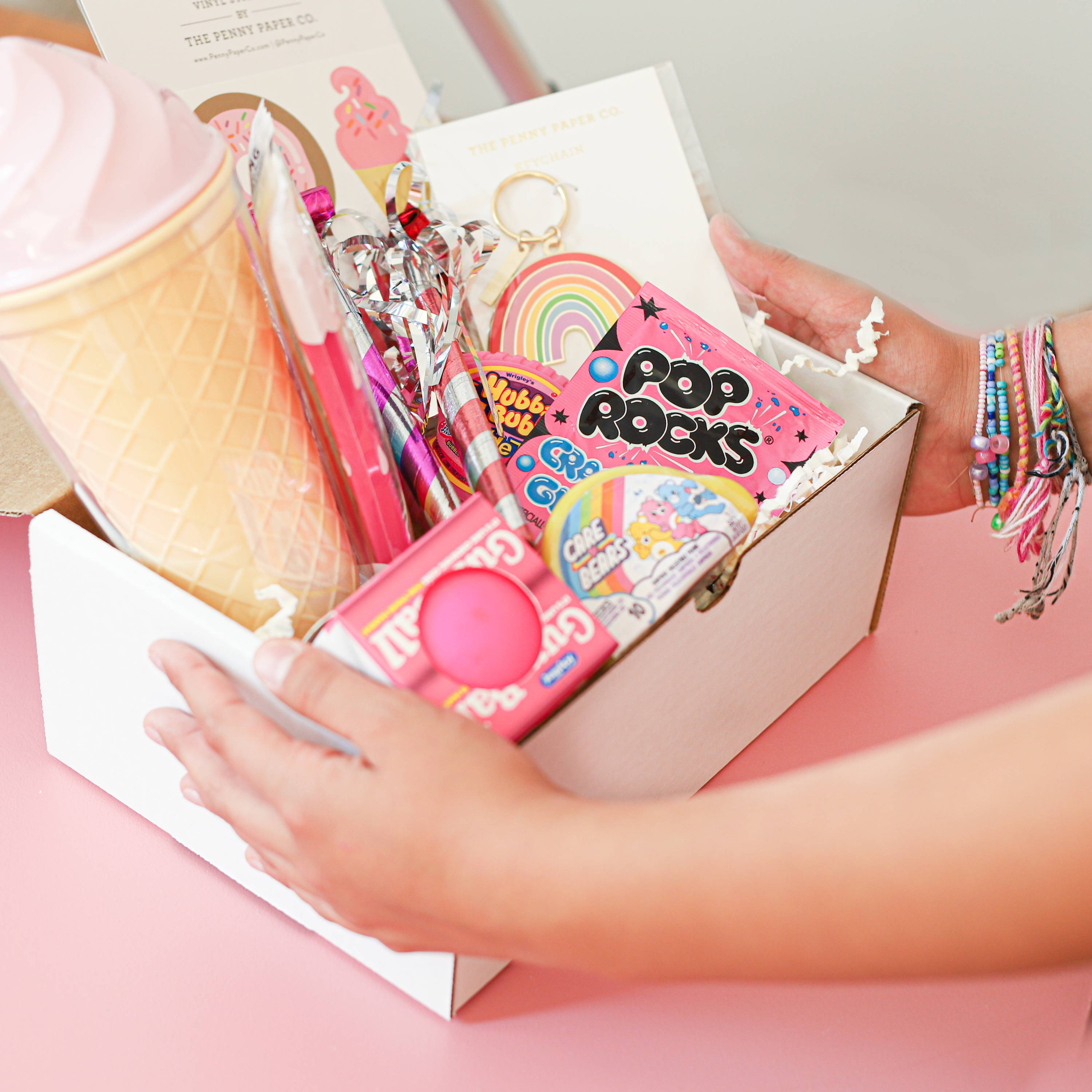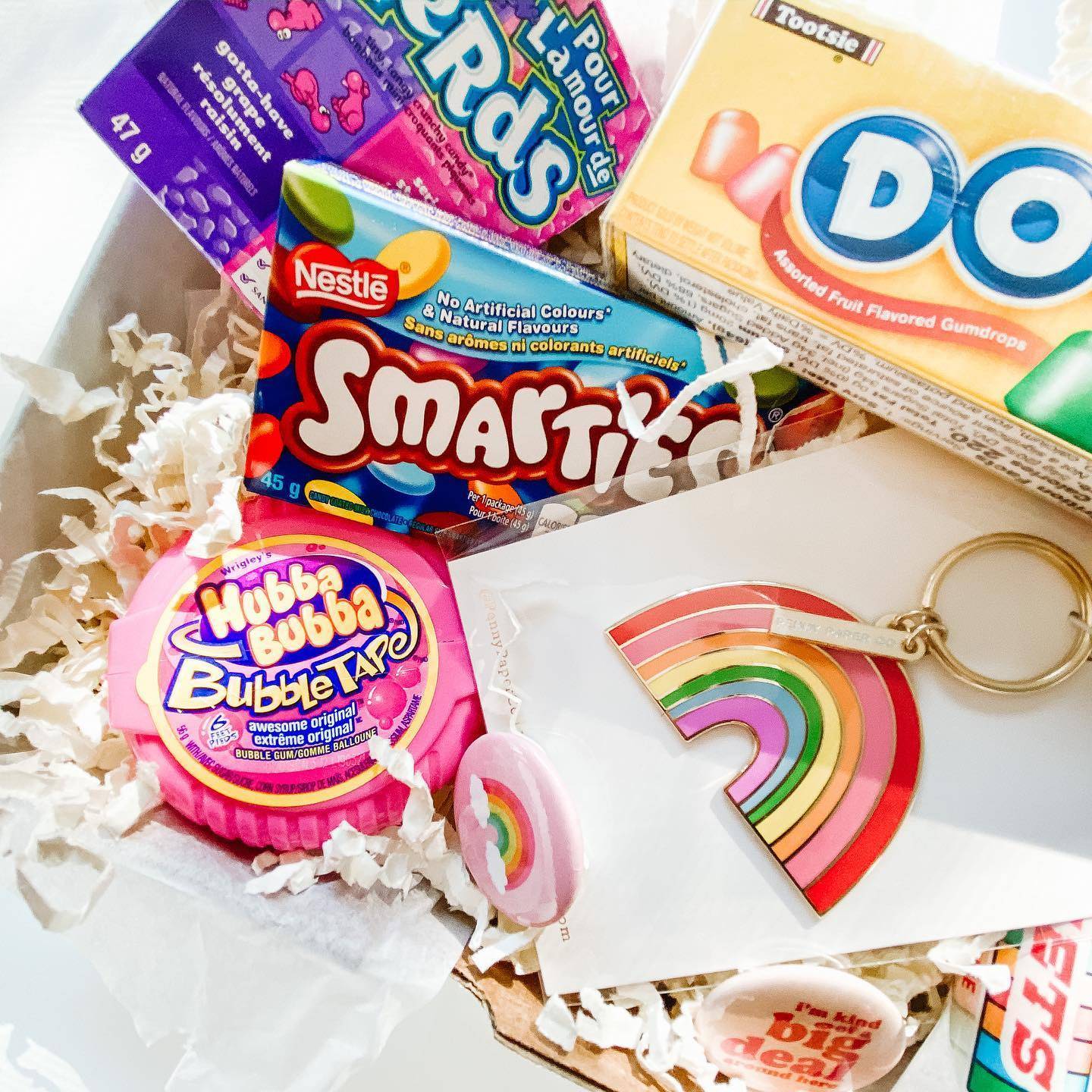 GENERAL FREQUENTLY ASKED QUESTIONS
Hello there! Our sweet, sunny, fun filled studio is located in Toronto, Canada. We ship across Canada and the United States.
DO YOU HAVE A RETAIL STORE I CAN VISIT?
No. We are online only. :) (But never say never!)
Yes! We have partnered with Toronto retailer, Collected-Joy, who graciously has opened her shop to allow our customers to pick up their online orders from us, at her store. Please select STORE PICK UP at the checkout. NOTE: Collected Joy has 2 locations, the pickup is in her Upper Beach location located at 1035 Kingston Road
I NEED MY ORDER TO ARRIVE BY A CERTAIN DATE
We wish we could guarantee delivery dates but it's virtually impossible for us to do so as we rely on other service providers to handle transportation of orders. What we recommend is ordering early and have it arrive sooner than hoped for! If it is for a specific date, and you don't want the recipient to open it before, you can request a "DO NOT OPEN UNTIL" sticker and indicate the date you would like on it. You can do this in the "message to seller" at the checkout.
At this time we are fully staffed with a sweet crew of people in our studio. We do hire seasonal staff so if you live in Toronto and would like to be contacted for short term contract work, please e-mail info@pennypaperco.com with the subject SEASONAL STAFF in the subject line. Typically this is October through December.
Our Build-A-Gift, step by step gift box building is a feature on Penny Paper Co.It is a system that allows you to pick and choose items to add into a gift. No pre-made gift boxes, as no two people are alike. You are of course welcome to shop our store like any regular shop and ship to yourself! However our Build-A-Gift is something that is super fun.
It's super easy! We have two ways to build-a-gift.

#1 Build-A-Gift Step by Step Guide [Recommended]
We recommend starting here, on our BUILD-A-GIFT page. [See picture] It's like having a personal shopper guide you through building a perfect gift. We've shown birthday boxes, friendship boxes, and more. Each "box" has it's own curated items that you.

#2 - The other way is to just simply add items to your cart, checkout, and put a different "Ship to" address than your billing address. If you'd like us to hand write a card with your gift, be sure to add a note in the message to seller with what you'd like us to write on the card. We won't include any receipts or packing slips so please be sure to include a note so the recipient knows it is from you.
HOW DO I SEND MORE THAN 1 BOX TO A HOUSE
We can only ship 1 box per shipping label.
If you would like to send multiple unique boxes to one address, you must place each box individually and pay for shipping labels for each box. Everything in your cart goes into 1 box.  Many of our customers just send one, glorious box to a family / kiddos to open and enjoy! Ps, We try to make this SUPER clear during the shopping process. Please watch out for our notes about this here, here and here.
HOW DO I ADD MORE ITEMS TO A GIFT?
You can add ANYTHING from our shop into a gift box

The easiest way to think about it is, everything in your shopping cart at the time of checking out, goes into the 1 box. So add a gift box to your cart and continue to shop. Everything in your shopping cart gets combined.

Read more here.  
FAQ about including notes with your gift
1. BUILD-A-GIFT
There is a pop up box that happens on the CARD step of the Build-a-gift. Choose your card + write a message to be included.

2. I SKIPPED THE "BUILD-A-GIFT" BUT I STILL WANT TO INCLUDE A NOTE
Easy peasy! Just add a card or postcard from the shop into your cart. In the checkout in the message to seller please write the message you would like written in the card.

3. I DON'T WANT TO INCLUDE A CARD
In the build-a-gift you can select "SKIP THIS STEP" on the card page, which was added as an option in late September 2020. [SEE PIC] Please note that no other documents are included with the parcel so the recipient will not know who to thank should you not include a note. (So mysterious!)
HOW DOES A BOX LOOK WHEN IT ARRIVES?
All of our boxes are white, and you pick how to decorate the box! At checkout you can select which tape to seal your gift box and choose fun add on's like stickers. Our tapes change with the seasons but we also have our standard Sprinkles tape that goes with everything!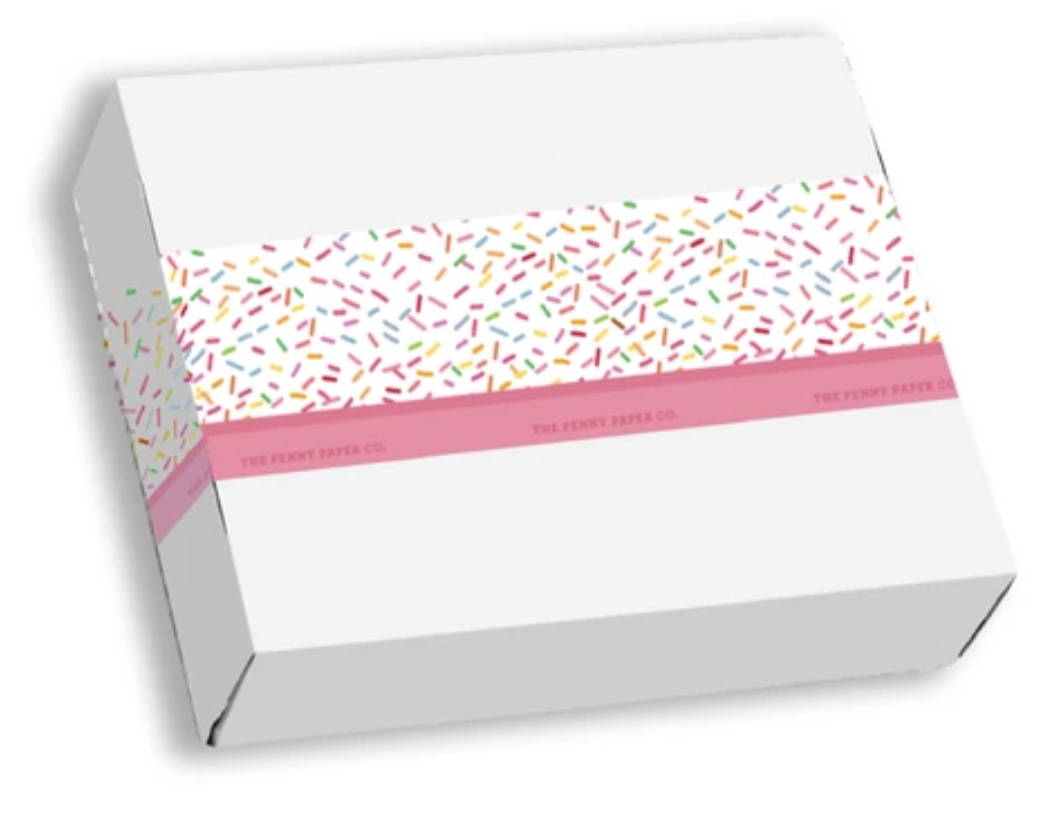 DO YOU DO CORPORATE ORDERS?
YES! They are so much fun. Please visit our corporate gifting page. We love working with our corporate clients helping them create beautiful gift experiences for their team, clients and staff.
---

---